Car Alarms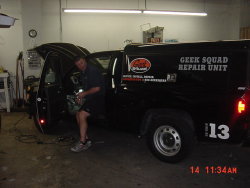 Did you know that according to the Gulfport Police Department's Annual Crime Summary, the citizens of Gulfport experienced 150 car thefts in 2010 alone? While the overall rate of auto thefts has been on the decline in the last five years, there is still quite a great risk. There's nothing worse than becoming another tick in this tally of depressing statistics. But luckily, you can avoid having your vehicle stolen when you have a dependable vehicle security system to rely on. Don't become just another number: protect your car or truck with a high-tech vehicle security system. Call Empress Audio today to learn about having a car alarm installed in your vehicle.
There are a variety of vehicle security options available to you when you have your car alarm installed at Empress Audio, including:
Keyless entry
Dual shock sensors
Glass sensors
Two-way remotes
Ignition interruption
Remote starters
Remember, many stolen vehicles are never recovered, and when your car is gone, so is everything inside of it, including your rockin' stereo, your textbooks, your golf clubs—everything. Only properly installed, quality car alarms can work to keep your vehicle and your possessions within your control, whether you're with your car or not. At Empress Audio, our fully insured vehicle security experts can help you choose the car alarm system that will work best for you, your car or truck, and your budget.
When it comes to car security alarms, there are no second chances. If your car alarm doesn't operate properly when a criminal comes along, it may as well not have been there at all! Professional installation from an experienced shop like Empress Audio is the only way to ensure that your vehicle is not vulnerable to people who break the law. Car alarm installation involves connecting the new vehicle security equipment to various electronic systems within your car as well as placing sensors, sirens, and wires. To avoid costly damage to your vehicle and ensure complete security for your car or truck, expert installation is the only way to go. Our fully qualified mobile electronics installers will complete the mounting procedures and complicated wiring efficiently and effectively so you can relax and enjoy your time out without having to fret about vehicle security one bit.
Empress Audio has been installing car alarm systems of all kinds since 1975, and we are dedicated to helping honest citizens take a stand against crimes such as car theft. Don't let the bad guy win! Stop by our Gulfport car electronics showroom today, or call for more information and free estimates on your new car security alarm.
Car Alarm Installer
Car Alarm System
Vehicle Security
Auto Alarm
Car Security System