Marine Audio
Here in Mississippi, we are blessed with a great deal of navigable water. The Gulf of Mexico and countless lakes, ponds, and rivers are all around us, perfect for swimming, boating, fishingor just cruising! So why not take your tunes or your favorite shows out onto the water with you, and enjoy the ultimate in floating relaxation?
If you want to combine sound waves with water waves, bring your boat into Empress Audio today to have it fitted with state-of-the-art marine electronics. With our awesome watertight marine stereos installed aboard your boat, you can send good vibrations to all the fishes in the deep blue sea. The marine electronics experts at Empress Audio can install waterproof marine electronics systems on boats of all kinds, such as sport boats, fishing boats, yachtsand even Jet Skis! It is possible to listen to your favorite classic rock artists or watch an action movie when youre floating and boating when you call on our marine audio electronics experts.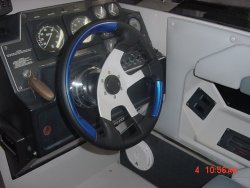 With more than 36 years of combined mobile electronics experience, our marine audio experts know how to properly install, wire, and insulate your marine electronics to ensure their protection against the harsh, wet marine environment. The constant wind, waves, and exposure to moisture will not be an issue when you trust our professional marine audio installers to make sure your electronics are well-equipped to withstand years of use. Unlike many other car electronics professionals, our experts are comfortable working with marine stereos and other marine electronics systems and can ensure you get the safe, quality installation workmanship you can count on.
Do you want the same sound quality in your yacht as you have in your SUV? Just about any listening feature that is possible in an automobile is possible on a marine vessel, from tweeters to amps to subwoofers. We can even integrate iPods, CD players, satellite radio, and other mobile audio equipment into your marine stereo system! And the quality design of the marine audio electronics we install means that their sound quality will not be affected by their protective construction. Enjoy crisp, clear sound from a marine audio system that can withstand splashing, gusts, and gritty sea air.
Drown out those pesky seagulls and bring your own sound to the sea! Call today for a free estimate and more information about owning a new waterproof marine stereo and marine electronics system from Empress Audio.
Marine Electronics
Marine Audio Speakers
Boat Stereo Systems